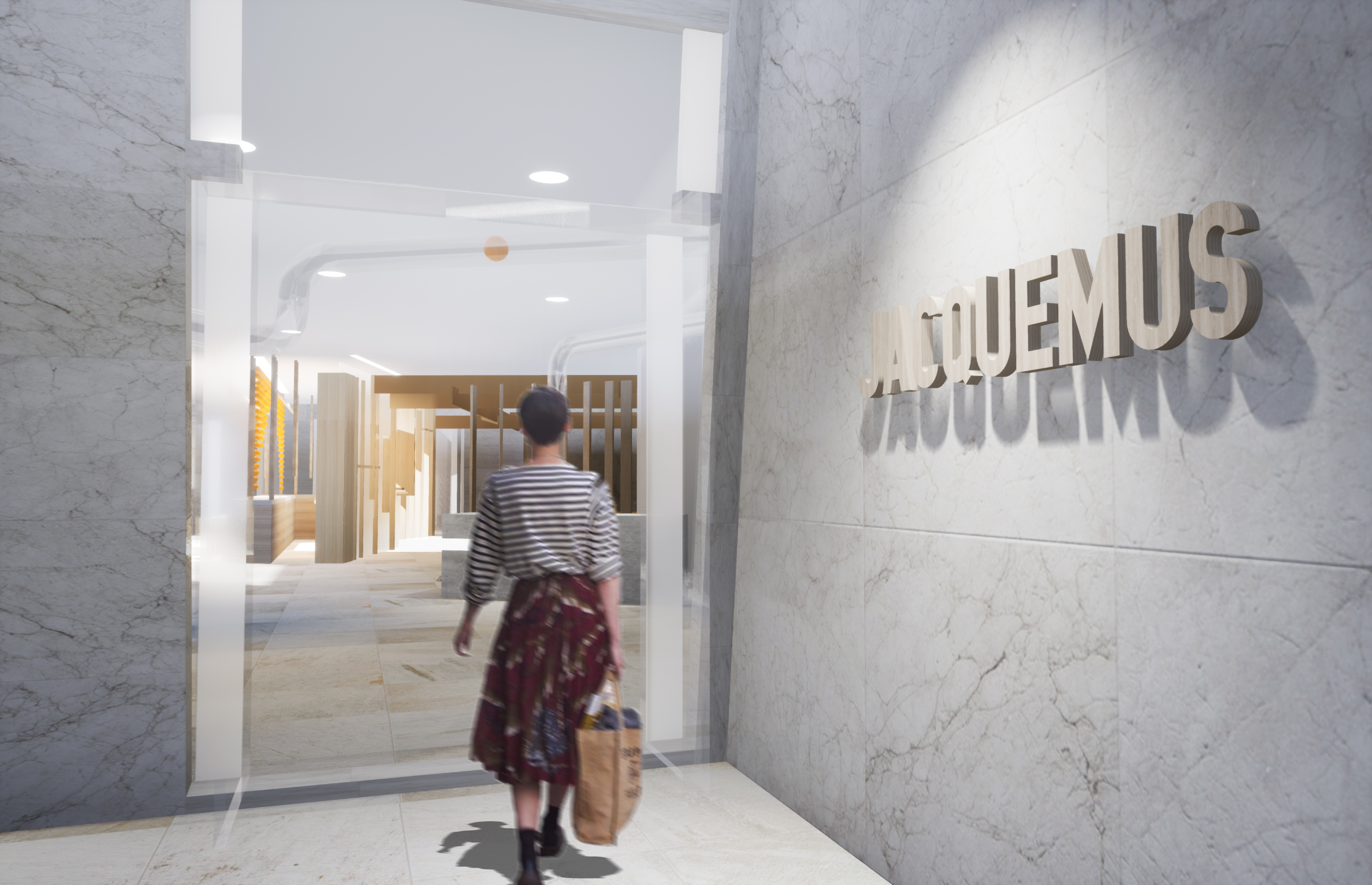 Jacquemus Boutique Hotel
Hospitality, Branding
2018 Fall
Seeing life with kids' eyes and finding the balance between nature and innocence.
The designer Jacquemus always has kids' playful elements in his designs and persists in keeping innocence in the fashion industry.
To create both man-made playfulness and a natural experience, the idea of an orchard is being used as the inspiration for the whole space.



---
Why Concept Come
from Orchad?

When Jacquemus talked about this brand, he mentioned, "Jacquemus is not about clubbing and night life. It's about fruit and vegetables and rolling in the grass." Orchard also reflects the place he lives where inspiring him all the time.

---




︎Site - 499 N. Canon Dr., Beverly Hills, CA 90210





︎Grond Floor Plan View

---


︎Key Moments




"Pick Up Fruit"

The reception area is inspired by the "pick up fruit" part in orchard. Three clear acrylic pipes hanging on the ceiling, shifting the oranges from the "tree" and drop them into the water. The reception desk for check-in is right face to the main entrance. It is made by paper brick and a glow material inserted to light it up.
"Growth of Trees"
The place is for everyone, provided fun experience instead of just waiting for check-in. The inspiration is from the "growth of trees" part in orchard. Oranges are distributed from the tree to every single pool.
"Sit Under A Pavillion"The lounge is able to shift modes between day and night to create different moods. The inspiration is from the pavillion in orchard, which also represent the process of enjoy.
"Connecting the Lounge"The wood structure extend from lounge to the bar. It creates a relaxing atmosphere for guests and visitors to grab a drink and hangout.
---


︎Guest Room


First Impression
While walking through the hallway, guests can see plants are placed on the side of hallway which represents the growth of the trees. After entering the room, the orange wall would be the first impression, lots of oranges frozen in the resin highly related the theme of the hotel.
Layers
Bedroom - wood structure is used here connecting the facade, bed is face to the large french window with a nice view.
Hierarchy - there are three layers of floor in the whole guest room, first is entrance and bathroom, second is living area and the third is for bed. They are from low to high, from hard to soft, from cold to warm.
An Open Bathroom
There are open space connecting to living area, hand washing sink and mirror stand in the center of the room.
A Private Relaxing Space
This is a space created for guests to have a cup of coffee, read books and watch TV. A swing is hanging on the wood structure which extended from bedroom.




︎Facade Ideation





︎Physical Modal ( swipe︎︎︎)


Student work, for demonstration and research purposes only. Not an actual product or service of Jacquemus.